About Duffy Electric

Duffy Electric is a friendly, family-owned and operated business who specializes in safe, efficient, high quality residential and commercial work. Our goal is happy, satisfied customers.

Brian Duffy, Master Electrician & President, has over 19 years in the industry. We opened our own business in 2007 in Boston, Massachusetts and relocated to Long Island in July of 2008 (to be closer to family). In the midst of these tough economic times, we have expanded our business to include more employees after only restarting the business here on Long Island 4 ½ years ago. We attribute this fact to our honest, clean, exceptional work and service which leads to our long list of very happy, very satisfied customers. We are licensed and fully insured.

Call us today for your on-site assessment and...We'll Brighten Up Your Day!
No job too big or too small. (516) 597-4644.

Best,
The Duffy Electric Family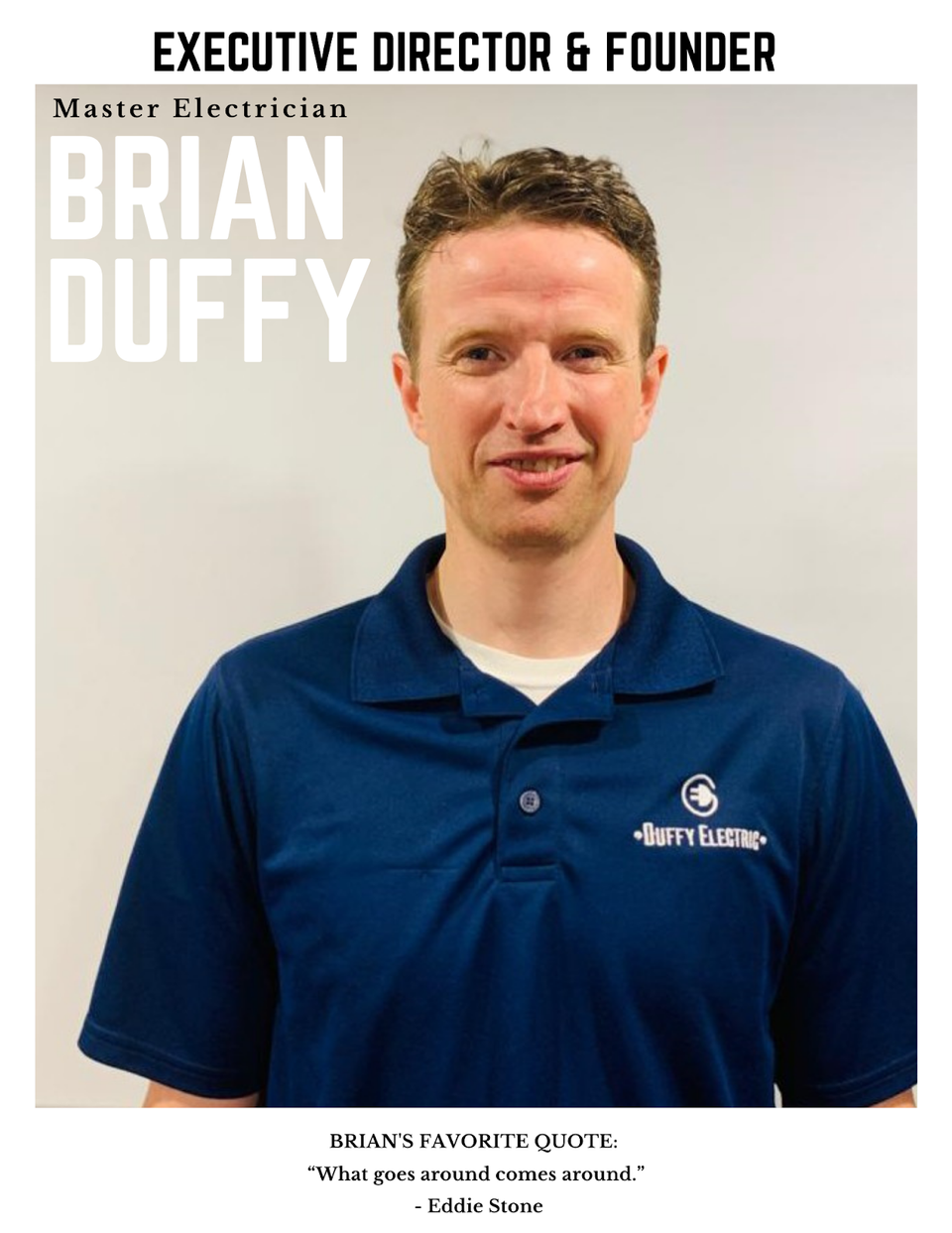 Brian Duffy is a Master Electrician with 27 years of experience in the electrical industry. 14 of those years were spent apprenticing, working and gaining an invaluable education on the job with other electrical contracting companies. The remaining 13 years Brian has spent as the founder and Executive Director of Duffy Electric, a flourishing residential electrical contracting company. 
As a native of Dublin, Ireland Brian is certified to perform electrical work in the the UK, covering the regions of both Ireland and England. He later emigrated to the US, seeking further growth and adventure, and became licensed for the state of Massachusetts. Subsequently moving to Long Island, NY he then obtained his Master's License for Suffolk County, all 3 townships of Nassau County and the 5 Boroughs of NYC. 
Brian is a residential renovations expert with extensive experience working in 100+ year old homes, so you can rest assured there's no electrical problem your home has that he can't handle. Due to his strong desire to pursue a career that kept him active in the community, he is extremely customer friendly and focused on a completely smooth exchange of services. The main ingredient in his success thus far has been his desire to help others, and this is a passion and trait that is a must for all Duffy Electric crew and office staff. 
Any electrical problem you may encounter, from Manhattan to Montauk, Brian Duffy and his carefully selected and trained techs are certainly the crew for the job.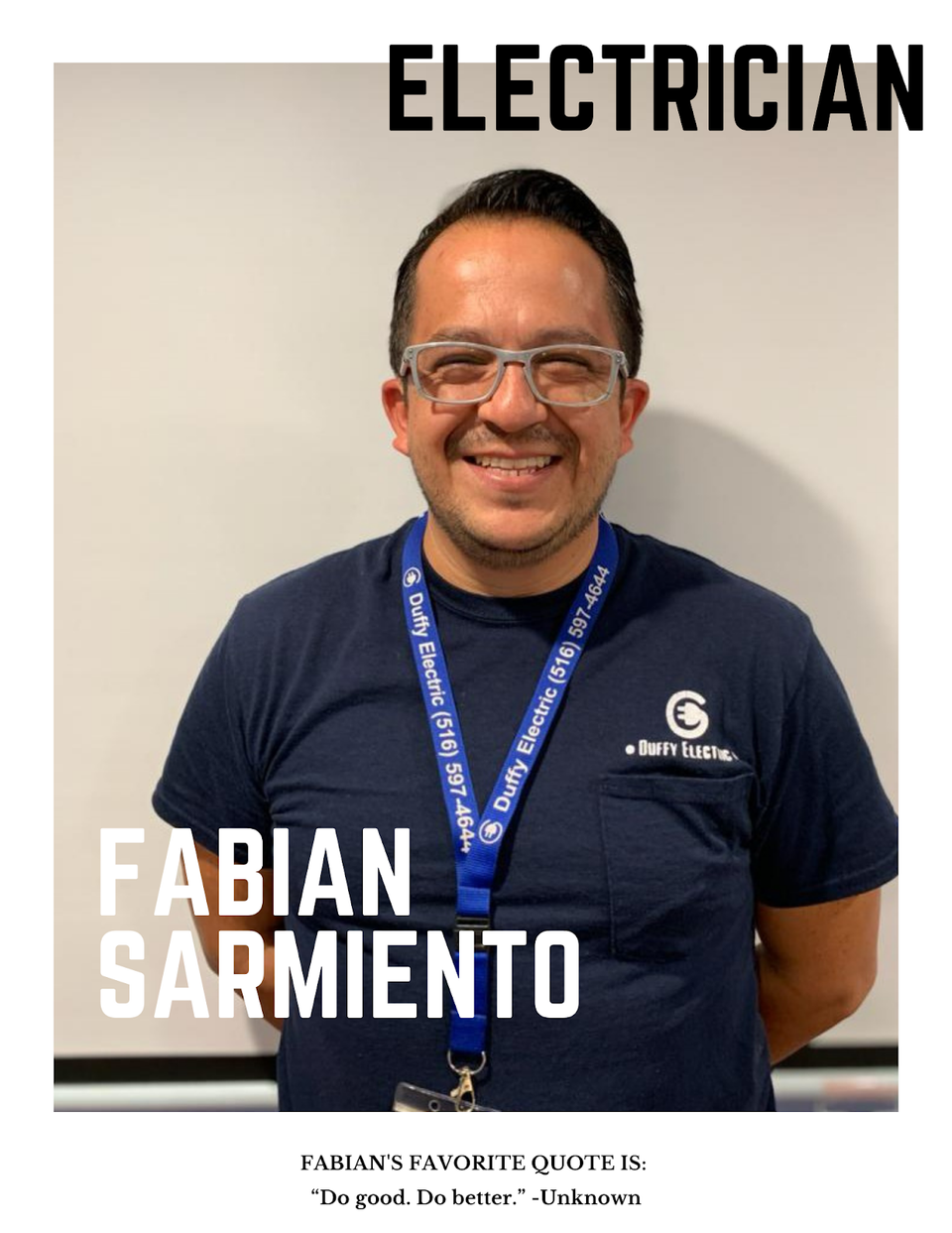 Fabian is sociable, friendly, warm and welcoming, and on top of all that is a highly skilled Electrician. As one of our Lead Electricians, he has big plans and ambitions for where he wants to take Duffy Electric from his position, and he's happy to do whatever it takes to get us there. He is all about teamwork; being a team, working with a team, getting along with team members. 
Wherever he goes, he has his team's back, and that includes taking good care of the customers of that team. He finds it important to personally connect with customers, speaking to them about more than just electrical work and adding a little light to their lives whenever he can. It's what he enjoys most!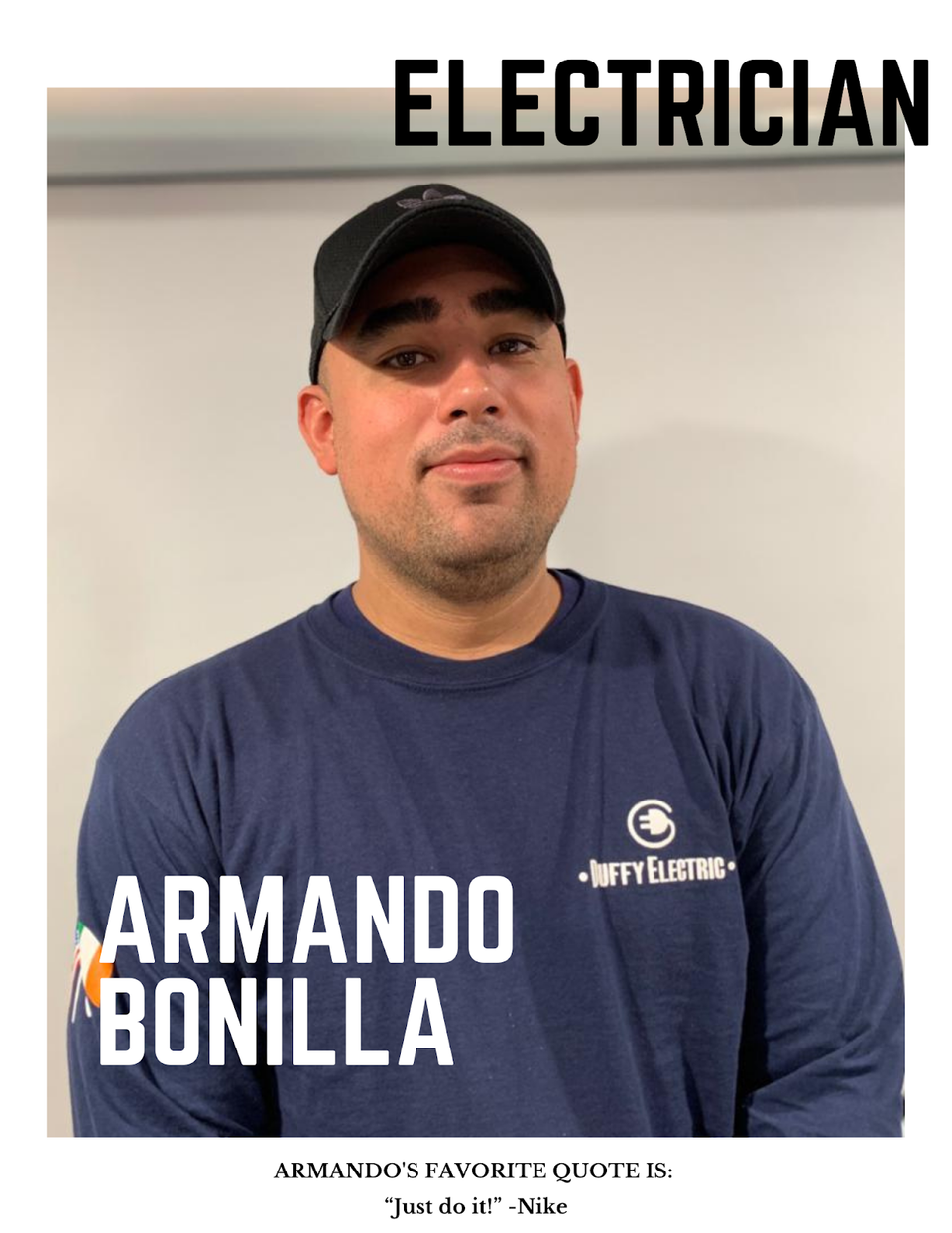 Armando is yet another one of our skilled Electricians. As an ambitious person who is anxious to learn new things every day, he is always working on being better than he was the day before. He has a passion for not allowing any obstacles to get in his way in life, and we can confidently say he applies this trait to his position here at the company. 
He enjoys meeting new people on a daily basis, and being able to help out every single one of them. He loves what he does and enjoys having a down to earth team to work with every day. He feels lucky to have a boss like Brian Duffy who is an excellent teacher and always manages to leave him and the crew feeling more ambitious and motivated after each morning meeting and training session.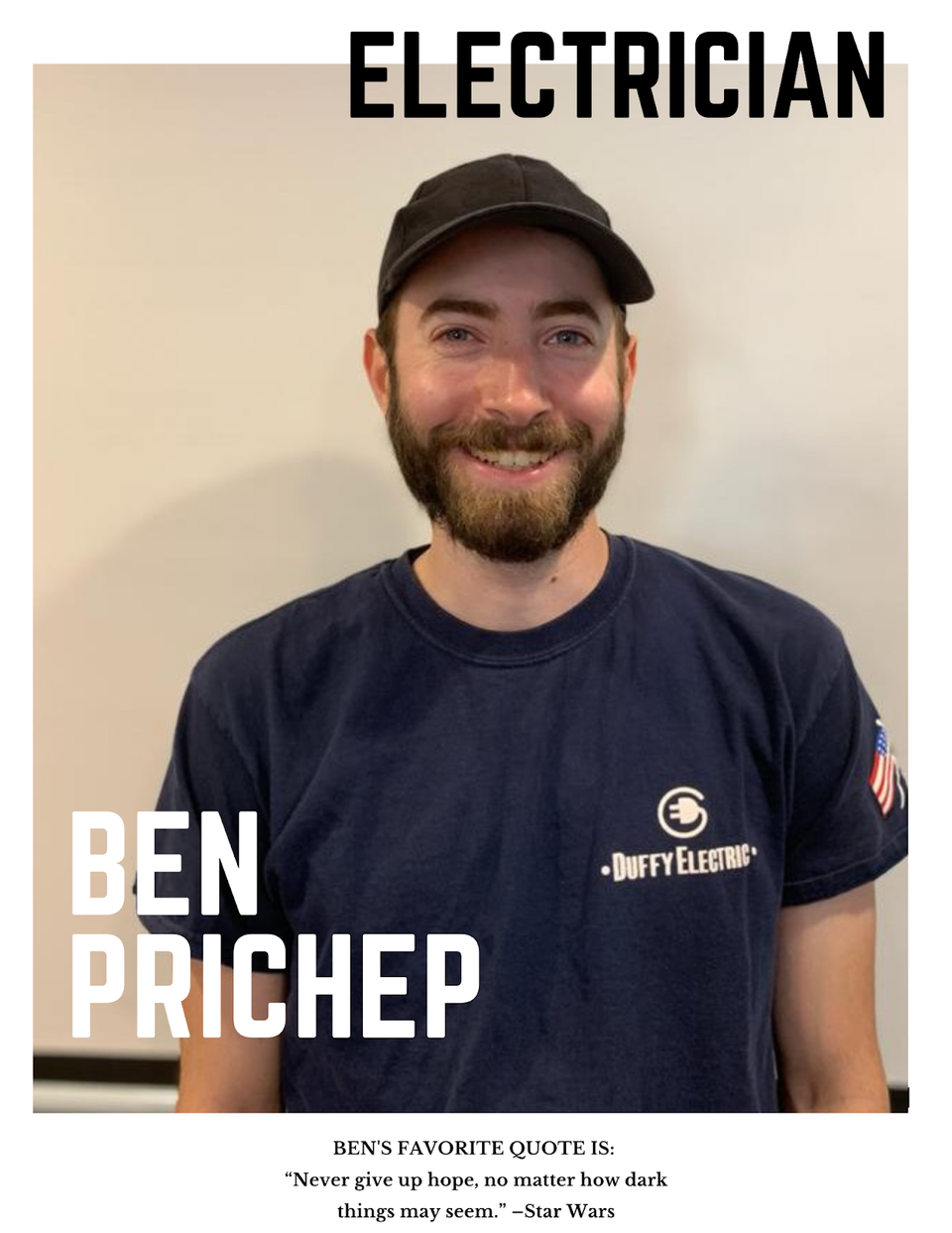 Ben is Duffy Electric's quick to act "first responder". Reliable and trustworthy, he never fails to jump into action as soon as he is called upon to get something done. He loves going out to get to know different people, and being able to make them smile and laugh while helping them with their electrical problems. We're proud to say he's a great example of how Duffy Electric can "brighten up your day".
He enjoys a job that keeps him active and on his toes, and he's happy to say he's in the right place as a Duffy Electric employee. He loves a challenge, and loves learning something new every single day, thanks to the fact that he has a Boss that is so willing to teach and relay his personal skill and knowledge. Ben plans to stay a part of the Duffy family and continually strives to be the best Electrician he can be.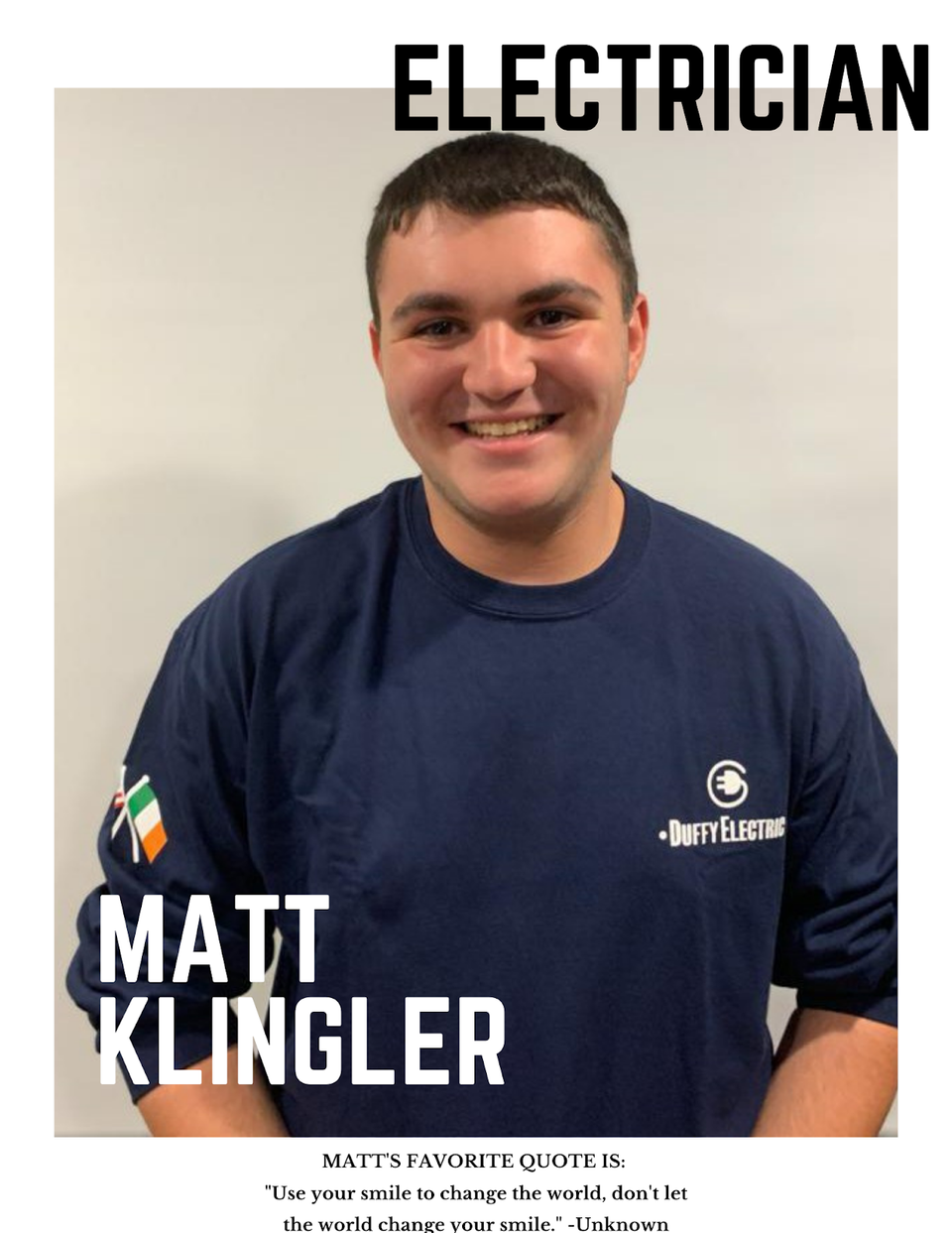 Matt, as our youngest electrician, is a true gem. It can be rare to find someone who has a strong drive not only for work, but for experience and growth. Between his diligence and Brian's training, he has managed to pack years worth of experience into just a short time and his skill far surpasses many who have been in the field for longer than he has. 
On the job, Matt feels it is important to thoroughly explain each project to each customer so there are no questions or confusions. Customer satisfaction and a job well done to the Duffy standard are his top priorities. He loves working with his Duffy family, and looks forward to the laughter and accomplishment he gets to experience every day he spends with the crew.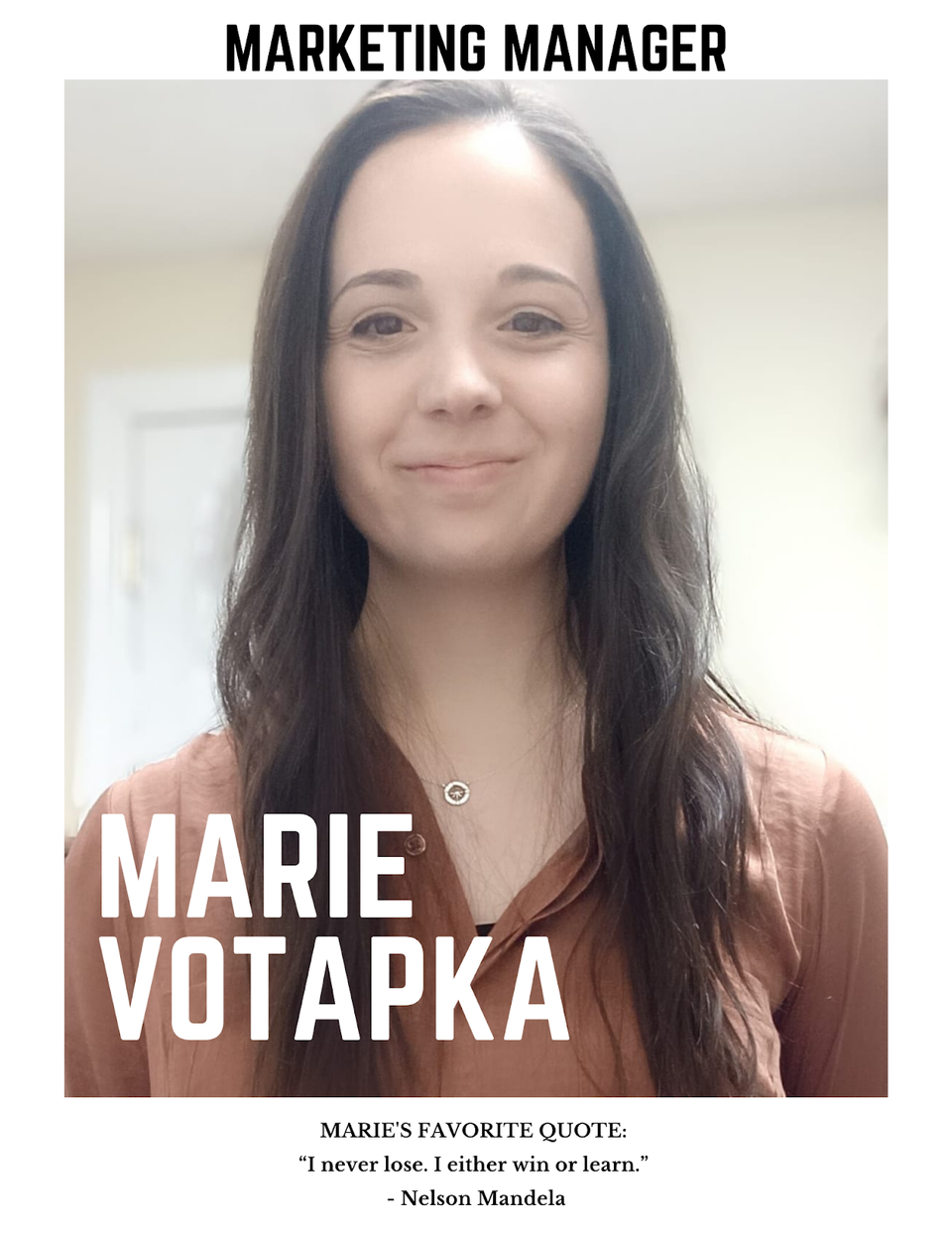 Marie started off as a Duffy Electric employee in 2012, and stuck with us ever since! She has worked closely with the Executive Director and Company Owner over the years to establish and expand Duffy Electric. In doing so, she has gained a unique perspective on the company's inner workings and can say first hand that the level of professionalism and quality that the crew is held to is sky-high. What she finds impressive is that these high standards are maintained all while keeping the working environment friendly, light-hearted and enjoyable. 
As a creative individual with a background and experience in the arts, Marie has a knack and drive to effectively and creatively showcase the value of Duffy Electric's staff, knowledge & services, which led her to become our Marketing Manager. Having been with the company for so long, she knows that there is no comparison when it comes to the care and attention customers will receive, and she shares the common company goal to help others wherever possible.